Acclaimed 18th century British author William Hazlett famously wrote that: "First impressions are often the truest."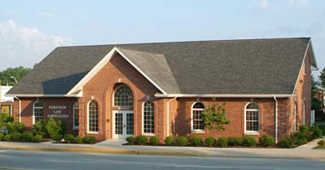 This fact is as true today as it was in the 18th century.  Whether you are walking into a private home, a restaurant, a hotel, or a doctor's office, your first impression is usually an accurate indicator of the quality of service you can expect to receive.  At Ferguson Law Associates we believe the same principle holds true.
In 2005, we celebrated the grand opening of our state-of-the-art law offices located at 400 Main Street, Latrobe, PA.
With over 3,000 square feet of office space, onsite parking, handicap access, 21st century technology and hardware, our spacious offices are designed to provide our clients with the highest quality of legal service and convenience possible.
Whether it's our own clients or opposing parties and their counsel, we believe that the quality and elegance of our facilities set a tone that provides a distinct advantage to our clients.  At Ferguson Law Associates we hold ourselves to the highest standards of excellence and expectations.  We believe that our offices reflect that high standard of excellence.